Richland High School
CLASS OF 1917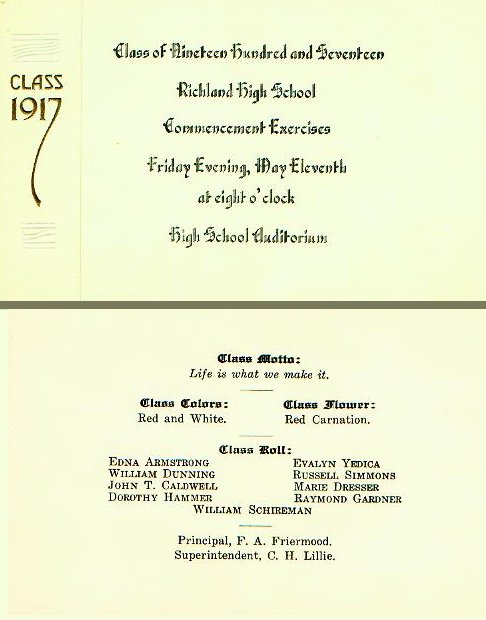 List of RHS 1917 graduates From the Commencement Program (above)

Edna Armstrong
John T. Caldwell ~~ Deceased ~~ (1898 - 1981)
Marie Dresser
William Dunning
Ray Gardner
Dorothy Hammer
Walter Simmons
William Shireman
Evalyn Yedica





Fall of 1916 Football Season
W-L-T
0-2-1


Richland, 0 ~ Pasco, 21
Richland, 0 ~ Kennewick, 7
Richland, 0 ~ Kennewick, 0



1916-1917 Basketball Season


Coach: C.H. Lillie

Richland, 30 ~ Benton City, 27
Richland, 29 ~ Lind, 20
Richland, 28 ~ Benton City, 27
Richland, 22 ~ Pasco, 14
Richland, 15 ~ Pasco, 28  (L)
Richland ~ Kennewick

Team Players: 
Will Shiremann, Wilbur Adkins, Wayne Mowery, Bill Dunning,
Harold Simmons, Wesley Sawyer, Edward Sutton, John T. Caldwell,
Guy Reeder

NOTE: There were missing issues of the Richland Advodate
during the basketball season. Scores reported on this page were
reported in the 1917 Pasco Hi School Sinewesah annual,
Richland Advocate, and Kennewick Courier-Reporter.
Guy Reeder fractured his left arm and was out the rest of the
season.


Click the picture to see LARGER picture.
 









page started: 10/07/01
page updated: 07/24/12
Email the Webmaster
CLASS of 1917