Richland Bombers
Class of '52 -- 60 years later

~~~~~~~~~ Want a larger view??? ~~~~~~~~~~

Left Side - BIG ~~~ Center - BIG ~~~ Right Side - BIG

Picture scanned by: Terri PORTCH Robertson ('78) daughter of Luana IVERS Portch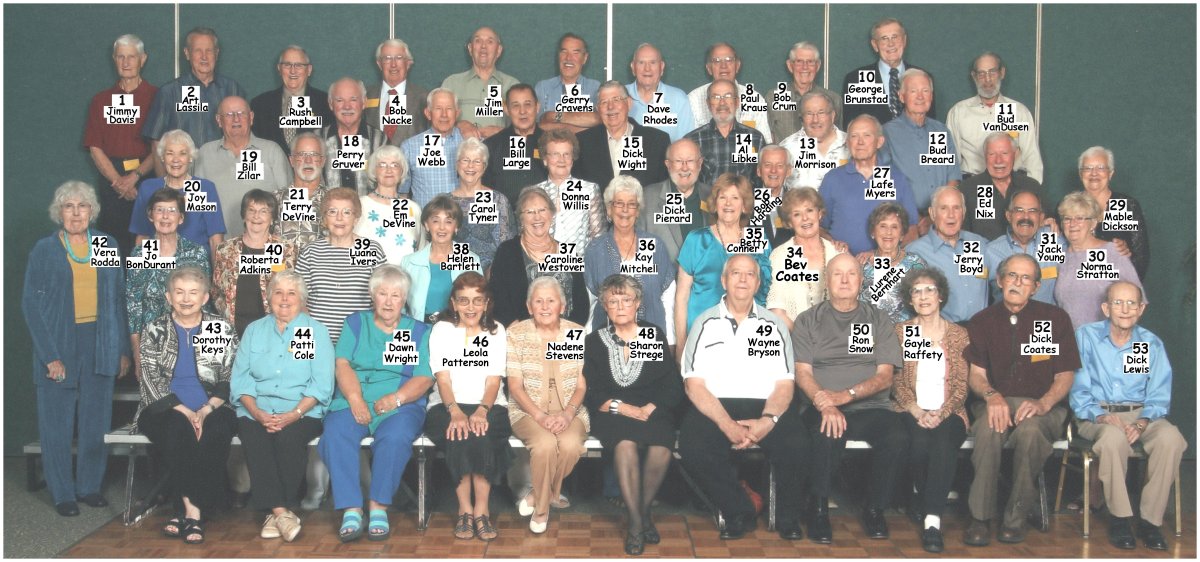 1. Jimmy DAVIS, 2. Art LASSILA, 3. Rush CAMPBELL, 4. Bob NACKE, 5. Jim MILLER, 6. Gerry CRAVENS, 7. Dave RHODES, 8. Paul KRAUS, 9. Bob CRUM, 10. George BRUNSTAD, 11. Vernon "Bud" VanDUSEN, 12. Bud BREARD, 13. Jim MORRISON, 14. Al LIBKE, 15. Dick WIGHT, 16. Bill LARGE, 17. Joe WEBB, 18. Perry GRUVER, 19. Bill ZILAR, 20. Joy MASON Howard, 21. Terry DeVINE, 22. Marilyn "Em" DeVINE, 23. Carol TYNER Roberts, 24. Donna WILLIS Nelson, 25. Richard PIERARD, 26. Bob HARDING, 27. Lafe MYERS, 28. Ed NIX, 29. Mable DICKSON Pangle, 30. Norma STRATTON Williams, 31. Jack YOUNG, 32. Jerry BOYD, 33. Lurene BERNHART Reed, 34. Beverly COATES Karns, 35. Betty CONNER Sansom, 36. Kay MITCHELL Coates, 37. Caroline WESTOVER Gerneglia, 38. Helen BARTLETT Mowery, 39. Luana IVERS Portch, 40. Roberta ADKINS Shipman, 41. Joahn "Jo" BonDURANT Johannesen, 42. Vera RODDA Simonton, 43. Dorothy KEYS Harding, 44. Patti COLE Pierce, 45. Dawn WRIGHT McAllister, 46. Leola PATTERSON Lewis, 47. Nadene STEVENS Johnson, 48. Sharon STREGE Zinsli, 49. Wayne BRYSON, 50. Ron SNOW, 51. Gayla RAFFETY Baird, 52. Dick COATES, 53. Dick LEWIS.

FIND US ALPHABETICALLY!

Roberta ADKINS Shipman-40,

Helen BARTLETT Mowery-38, Lurene BERNHART Reed-33, Joahn "Jo" BonDURANT Johannesen-41, Jerry BOYD-32, Bud BREARD-12, George BRUNSTAD-10, Wayne BRYSON-49,

Rush CAMPBELL-3, Beverly COATES Karns-34, Dick COATES-52, Patti COLE Pierce-44, Betty CONNER Sansom-35, Gerry CRAVENS-6, Bob CRUM-9,

Jimmy DAVIS-1, Marilyn "Em" DeVINE-22, Terry DeVINE-21, Mable DICKSON Pangle-29,

Perry GRUVER-18,

Bob HARDING-26,

Luana IVERS Portch-39,

Dorothy KEYS Harding-43, Paul KRAUS-8,

Bill LARGE-16, Art LASSILA-2, Dick LEWIS-53, Al LIBKE-14,

Joy MASON Howard-20, Jim MILLER-5, Kay MITCHELL Coates-36, Jim MORRISON-13, Lafe MYERS-27,

Bob NACKE-4, Ed NIX-28,

Leola PATTERSON Lewis-46, Richard PIERARD-25,

Gayla RAFFETY Baird-51, Dave RHODES-7, Vera RODDA Simonton-42,

Ron SNOW-50, Nadene STEVENS Johnson-47, Norma STRATTON Williams-30, Sharon STREGE Zinsli-48,

Carol TYNER Roberts-23,

Vernon "Bud" VanDUSEN-11,

Joe WEBB-17, Caroline WESTOVER Gerneglia-37, Dick WIGHT-15, Donna WILLIS Nelson-24, Dawn WRIGHT McAllister-45,

Jack YOUNG-31,

Bill ZILAR-19.



Return to Class of '52 Website





page started: 09/18/12
page updated: 09/18/12
Email the webmaster
52 in 2012