BOMBERS in the SMITHSONIAN
Click pictures to see larger view.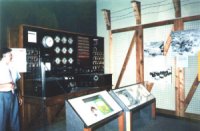 Picture on the right is a close up of the Bomber T-shirt in the picture on the left.

Pictures taken by Mina Jo Gerry Payson, class of '68 Richland Bomber

"I found the fabled Bomber T-shirt in the Smithsonian American History Museum. This is a portion of the display. I have no idea who the man on the left is. I didn't even notice him when I took the picture. The white shirt to the left of the green one has the logo of a group I believe was called COHO from the mid-seventies that advocated cleaning up the site. They were just a bit ahead of their time. Behind the shirts is a reactor control panel. The small pictures in the background show a reactor in the building process, one of the processing buildings and the waste tanks being installed. There are also pictures of the barracks at Camp Hanford and some other interesting places around town."
-Mina Jo Gerry Payson





Note from Carl Lorenzen ('98) "My father, Jerry Lorenzen ('66), an RHS graduate, was the only carpenter who worked on the restoration of the reactor control panel (shown above)."







page started: 11/21/98
page updated: 06/05/03
Email the webmaster
BOMBERS in the SMITHSONIAN